Registration for the 10th Waldo 100K, which will be held on August 20, 2011 at Willamette Pass in Oregon, will open at 8am on March 1.  Since the readers of this blog seemed to be split on registration preference there will be two options this year: old school print out and mail-in entry, or online at UltraSignup.  The fee is $100 if you print and mail-in or $105.50 if you do it online.  Historically we haven't filled until July but with the way races are filling up these days I wouldn't be surprised if it was much sooner this year.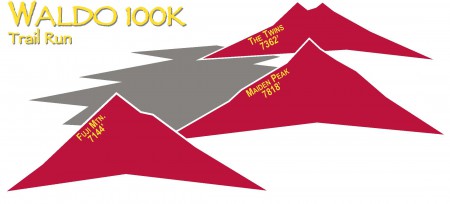 If you haven't noticed, we changed the name of the race.  Remember it used to be similar to a coloring book even though it had nothing to with a skinny red and white stripped shirt wearing dude.  "Why," you ask?  Because, as my wife predicted years ago, we received a cease and desist letter last year.  The kind folks who purchased the rights to the alluded to coloring book character were kind enough to give us a break last year since they contacted us just a few months before the race, but instead of engaging in a legal battle, we acquiesced and just changed the name.  We had considered names such as The Last Waldo, Just Waldo, Waldo Lake, and my favorite Where's, but we decided most people simply refer to the race as Waldo anyway, so there you have it.  Oh, be sure to catch the movie if it ever comes out and tell them we sent you.
Hard to believe we've been at this thing for 10 years.  It all started in 2002 when Curt and I decided to team up even though neither of us had race directed before and we didn't know each other very well.  It has been one hell of ride for both us.  Curt, who designed the course, spends most summer weekends doing trail work and the week before the race marking the course.  He has given up a lot of activities that he used to enjoy: canoeing, backpacking, birding, and running.  (OK, the fact that he hasn't run much in the last few years is not the fault of the race.)  So he can get back to those things before he's too old to do anything but listen to bird calls on his iPhone in a hammock, this will be Curt's last year as Co-RD of the race.  I hope and expect he'll be involved in the race in some capacity but it will be with less responsibility.  Thanks for a great 10 years, Curt.  You are a kind, generous, and good man.
Oh, I almost forgot.  Curt is going to be running the race this year.  He's taking the regular start and expects to run about 15 hours.  It will be very emotional handing him a finishers hat.