"I'm thinking 9 hours. Gotta get my money's worth." The head games began the week before the race as the text message, Facebook, and email banter flew back and forth. "I bet you'll enjoy finishing before me." I knew AJW was just trying to mess with my head. There was no way he was not going to compete in a race that we were both running, especially since our last head to head meeting, a mile at Hayward Field last November, left his hypertrophic ego shattered and broken. "Let's just run AR relaxed," he suggested. Yeah, sure.
With the cancellation of Lake Sonoma 50 due to record water levels, I jumped at the opportunity to run American River 50 miler a week later, a race that AJW was already planning to run. Incomprehensible as it may be, I had never run AR, even though it has been a standard Western States stepping stone for many Californians for the past 32 years. I had never run it because I never thought running 27 flat miles on a bike path would be that helpful to prepare for the big downhills of Western States. I thought Californians ran it more out of convenience than anything else. But, with only less than two weeks to think about it, I was genuinely excited about running it – with 825 other runners!
My only experience with the race was pacing my brother the last 20 in 1988. My knowledge of the course was limited, but I knew it was a road race in the first half and a trail race in the second. I knew it was uphill as it follows the American River from Sacramento to Auburn, and included a big 1000' climb at the end to the overlook of the ill-fated Auburn Dam. The advice I got on how to run the race was not consistent. While several friends told me to take it easy on the bike path and save my legs for the much more difficult second half, one friend told me to take advantage of the easy miles on the bike paths – to let it roll through the marathon because no matter what I did the second half would be slower.
Race morning was a cool 42 degrees with clear skies. The high was predicted to barely break into the 60's. New road guy turned ultrarunner Joe Uhan from Eugene, remembering a trick a Midwest college coach taught him, coated his body with olive oil to stay warm, but AJW was making crazy predictions like needing to take 25 S-caps because it was going to be so hot. With the sun and dry air it was sure to take a little more sweat out of the body than what I was used to in Oregon, but 25 S-caps in a 50 mile race?
The early miles on the bike path just flew by. When I saw Mark Lantz checking a split early I said, "so, was that about 7:30?" He shook his head and said, "no, about 7." I guess I was "letting it roll." AJW was behind me but I didn't realize how far until we got on a bridge at about 18 miles and I could see him a few minutes behind. "Get up here and run with me," I yelled down at him, also referencing the insulation layer around his midsection.
The marathon clicked by at 3:10 (7:15/mile) and a half mile later I picked up my pacer, Meghan Arbogast. Might as well get this over with: yes, I had a pacer, and yes, my mother was there to help me too. If you're jealous that's your problem. After a slow start transitioning to the trail, and a dozen Meghan-do-you-see-AJW-back-there?'s I eventually got into a groove and was moving well. At least I was doing the passing instead of getting passed. The trail section was beautiful with tons of granite, numerous oak trees, and great views of Folsom Lake – much more technical and scenic than I was expecting. I definitely felt the road mile fatigue in my legs but getting on technical single track and running with Meghan was a great change.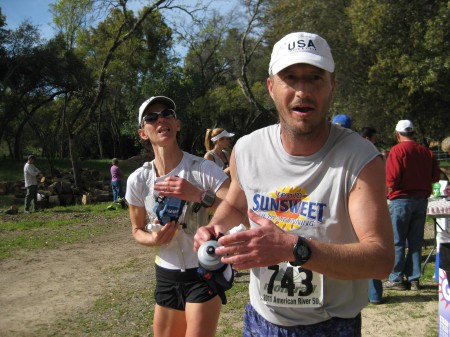 It was on a big bend around mile 44-45 that I saw him. AJW looked strong when he passed me and said something like "is that all you got, Thornley?" He put in a little extra push up a hill to show me his strength and to put a gap on me, and I'll admit, he looked strong. I repeated to Meghan how tough he was, but she reminded me that I'm tough too. He continued to widen the gap on me a bit as he pushed each roller a little harder until I noticed him fumbling with his pack. "He's cramping up," I quietly and excitedly said to Meghan; the smell of blood was all I needed to switch gears and close the gap until I was right on his butt. It doesn't get much better than this. Four miles to go and not one of the three of us said anything. Competing, but both of us bringing out the best in the other. We got a little separated when he passed a runner and I settled in a bit. After I passed the guy, I tried to close the gap again but then took a rare fall crossing a little creek. Wow, that didn't feel good, I thought, as Meghan and I both tried to take stock of my body. Nothing was broken, just dirty and a little shaken.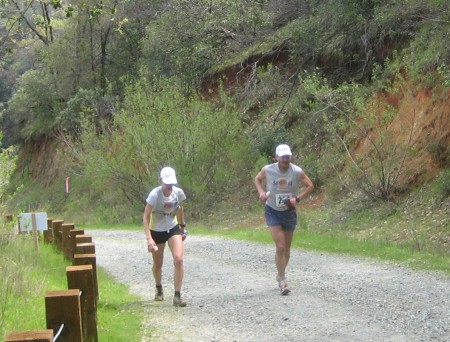 We hit the road with about three miles to go and John Medinger was there to give me some grief about "letting AJW beat" me. The last three miles we climbed the big hill we had been anticipating for 47 miles. We passed a couple more runners and we could see the target up ahead the whole climb, but couldn't close the gap on him. He finished in 6:58:39 to my 7:00:22.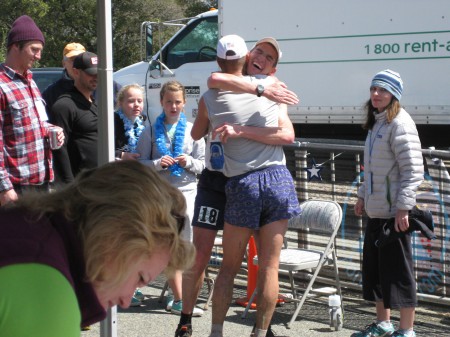 This race turned out to be a great WS prep race. Still need to get the heat training and the downhill miles in, but this was great for getting into the racing mindset. Thanks to Julie Fingar for letting us Sonoma refugees into the race; Matt Keyes for the hospitality; Meghan for driving, crewing, and pacing; Mom for crewing; Medinger for giving me non-stop grief after the race; everybody who was out there; and, especially to AJW for competing with me and bringing out the best of me. Next race: June 25.