Here we are only 11 days away from WS and it's time for our final WS synchroblog series for 2010, Ask An Ultrarunner.  Hopefully you have enjoyed this series of questions and answers.   It's been fun for me to see Hal and Meghan's responses (when HK has the time to synchroblog).  And, of course, my friend AJW is always entertaining.  Never know what he's going to write after 4 Sierra Nevadas.  We're each serious about our running and WS, but we also like to keep it light and fun and I think we've done that.  The last three questions are from folks that want to remain anonymous so we'll respect that.  Here you go.
Otto Indulgence asks:


I'm new to the sport and have been watching any relevant ultramarathon movie and reading every popular ultrarunning magazine article and blog that I come across. Rather than winning lots of high profile races every year, it has become clear to me that the quickest path to stardom and sponsorship is developing a top notch training gimmick. Heroic feats of endurance, competitive eating, barefoot running, and sexy, high mileage training logs are already taken. Can you recommend a gimmick for a budding young ultra star? I am confident that given an appropriate publicity stunt, I can easily handle the second requirement — criticizing other gimmicks as such.

Oh my, Otto, how old are you?  Did your parents neglect you?  You not get enough attention from your teachers, friends, and classmates in school?  This makes me really sad to read that you 1) think you need stardom and/or sponsorship and 2) are looking for a shortcut to that stardom.
Let me first address sponsorship.   You actually may be onto something here.  I've been involved in running for about 32 years and it never ceases to amaze me that there are those out there that view sponsorship as some kind of validation.  Something that is due them if and when they run a certain time or win a high-profile race.  One doesn't just get sponsorship because they've run such and such a time.  Well, maybe there is some truth to that in track and field or marathoning, but not so much in ultrarunning.  Companies are trying to sell product.  That's the primary reason behind sponsorship.  Can an athlete increase exposure for a product?  If coming up with a gimmick increases exposure to a product or company then goal accomplished.  But really, is getting sponsorship going to make you a better person?  More successful?  Will it make you happy?  I can hear some people saying, "Craig, stick with running and leave the life coaching to others."
The shortcut thing really bothers me.  Has anybody ever told you that there are no shortcuts to success?  That success comes from years of hard work?  Malcolm Gladwell in Outliers talks about the 10,000 hour rule.  It takes 10,000 hours of practice to get good at something.   Define some long-term running goals for your life and then pursue them with dedication and balance.  Put your head down and work, Otto.  If it works out then perhaps you'll get some sponsorship.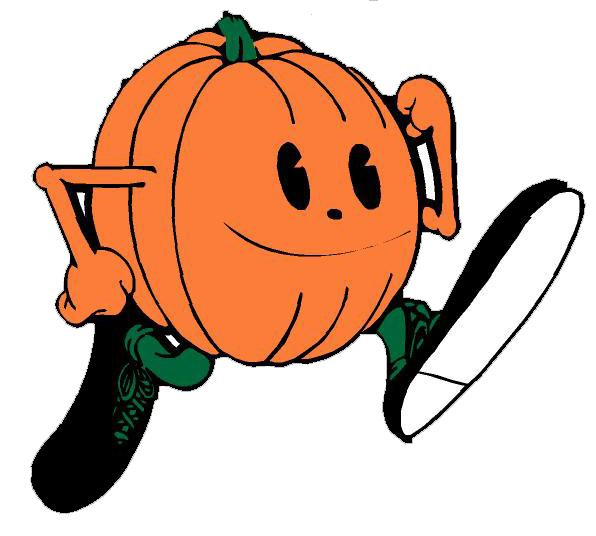 Ass Backwards asks:

I recently read Douglas McChristopher's "Freedom to Run Free Like You Really Should Run." What an awesome book! In this Homeric tale, McChristopher recounts how he traveled to Chico to run in the footsteps of the Sierra Nevada Pale Feet, a reclusive group of runners descended from an ancient warrior tribe whose existence revolved around running. The Sierras don't just run, they ran backwards. They drink massive amounts of malted beverages, fuel themselves with pumpkin seeds and fashion their own "toe shoes" out of pumpkin vines. After reading McChristopher's operatic ode to running, I decided to follow the author's lead and adopt the Sierra's methods. Amazingly, ever since I started running backwards, I've been completely free of injuries. I've finished five ultras, running them all backwards and using pumpkin seeds and pumpkin pie as my only fuel. My times are slower than they used to be, but I feel better than ever! I'm wondering what you think of McChristopher's book. Have you read it? Have you tried running backwards? Any plans to attempt a backwards Western States?
Ass,
Never heard of the book and obviously I've never read it.  Sounds like perhaps you've been consuming a little too much of the malted Sierra beverage of choice.  Either that or you're dyslexic and referring to another best selling book about ultrarunning natives.  But, I'll attempt to answer your question even though I think you may be a bit confused.
In general I would think that there are many reasons why running ultras backwards would be problematic and thus slower, including aid stations not open when you get there (but if all you're eating is pumpkin seeds it probably doesn't matter), course markings, running into the runners going the right direction (think Way Too Cool between ALT and Browns Bar), and from an RD's perspective you'd be a pain in the ass to account for.  But, if you've got five under your belt and these haven't been an issue more power to you.
As for running Western States backwards, do you realize how much harder it would be to run from Auburn to Squaw Valley?   And not just because of the net uphill.  Think about all the miles of downhill that you'd have to run up?  Have you run up Cal St or up to Devil's Thumb from El Dorado?  Those are long climbs on gentle grades.  How about you just work on getting better running the way the horses and runners have for decades instead of trying to make it more difficult?  Is this just to draw attention to yourself?  Seems to be a lot of that going around these days.
Jimmy The Greek asks:

I am so excited about the field this year.  Seems like each year Western States has the best field ever and this year is no exception.  You guys all being students of the race (and one of you the two-time defending champion) who are your top five picks for the men and women?
Jimmy,
Yes indeed, this year's field is very good, especially the men.  The Montrail Ultra Cup has been very good for increasing the quality of the field at WS.  I think this is great for the race and the sport.  At no other race are we able to assemble such a quality field, even at our National Championships.
While the men's field is very top-heavy with some fast first-timers and some veterans mixed in there – experience often plays a role at WS – the number of potential sub 20-hour finishers may be more striking.  But, you only want our top five.  If last year is any indication top five includes the much smaller group of sub-17 hour men.   Jurek won his first time running, but didn't break 17 until his third year.  Most of the other winners, including Morton, took at least a year to figure it out.  Before last year, perhaps only Dave Mackey has run under 17 at his first WS and then got second to the experienced Jurek.  Hal didn't win or break 17 until his 6th attempt.  Can the WS virgin big guns Krupicka, Roes, and Jornet defy the stats and win on their first try?  It would be fun to see one of them pull it off, but I'm going with HK for the three-peat.  Here are my top five men:
Hal Koerner
Tsuyoshi Kaburaki
Victor Ballesteros
Erik Skaden
Rod Bien
The women's field is interesting with lots of experience and a couple of 100 mile virgins, including Rory Bosio who runs the hills like Victor B, gracefully and swiftly like a deer.  Even though there are two former champions in the field, Nikki and Annette, I'm going to pick Meghan Arbogast for the win.  She's been racing very well, including winning the 100K USATF championship and recently snagging a victory at Ice Age 50 miler.  She's got three top-ten WS finishes under her belt and if she goes into the race thinking she can win, I think she can pull it off and win the MUC at the same time.  Here are my top five women:
Meghan Arbogast
Nikki Kimball
Annette Bednosky
Rory Bosio
Devon Crosby-Helms
Picking the top runners at WS is never easy as there are just too many unknown variables to factor in. But, as always, it's going to be interesting to see how the day unfolds.  See who has troubles and who runs the race of their life.  If I didn't pick you and you think I should have, prove me wrong!
Let's see what my other synchrobloggers have to say to Otto, Ass, and Jimmy.