Saw on the big ultra list today that Leadville 100 is offering prepaid IV recovery fluids to runners for $75 and an additional bag for $100.
From https://leadville100.10ksportmed.com/Page/Details/2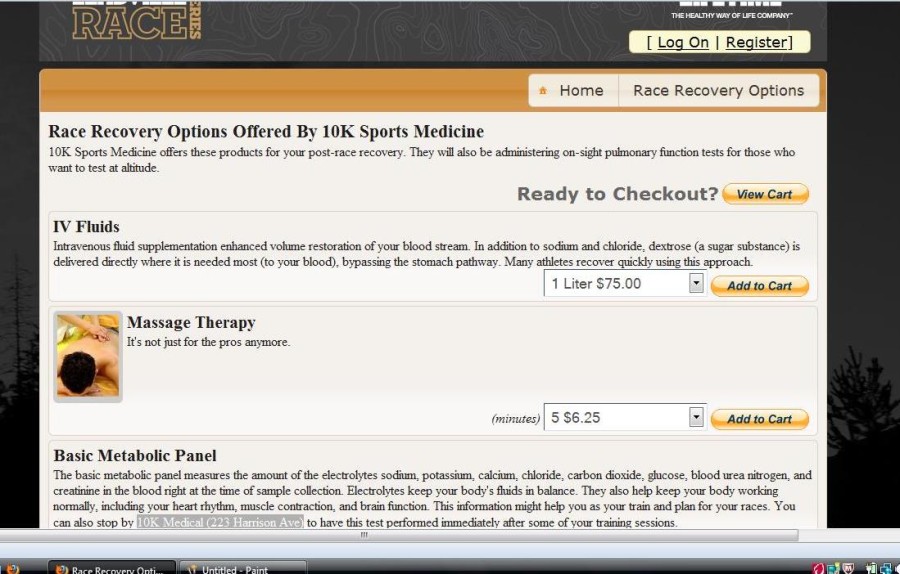 IV Fluids
Intravenous fluid supplementation enhanced volume restoration of your blood stream. In addition to sodium and chloride, dextrose (a sugar substance) is delivered directly where it is needed most (to your blood), bypassing the stomach pathway. Many athletes recover quickly using this approach.
Is this what our sport is coming to?  Granted, a year or so ago, the longtime Leadville RDs sold their races to a big company called Lifetime Fitness, so the commercialization, while perhaps a little unsettling, should probably not be surprising.  However, the fact that they are encouraging IV use for recovery is very bad in my humble opinion.  If you run yourself to the point that you need IV fluids for recovery you have screwed up.  Similar to a high CPK value, this is not something to be proud of or celebrated.   I am not suggesting that a race having IV fluids available at the finish is a bad thing.  In fact, I think it is good and I've seen many runners helped by receiving them.  But, pre-planning that you're going to need them is ridiculous.  This is so anti-Haggin Cup.  Seems like such a bad message to be sending to new people in our sport.  As Rachel Maddow would say, I need someone to talk me down.
7/28/11 2pm PDT update:  The option to purchase pre-paid IV has been removed from their website.